Boost Your Business Analysis Career
Join the 4,000+ analysts worldwide who have trusted the BA BLOCKS community to propel their careers forward.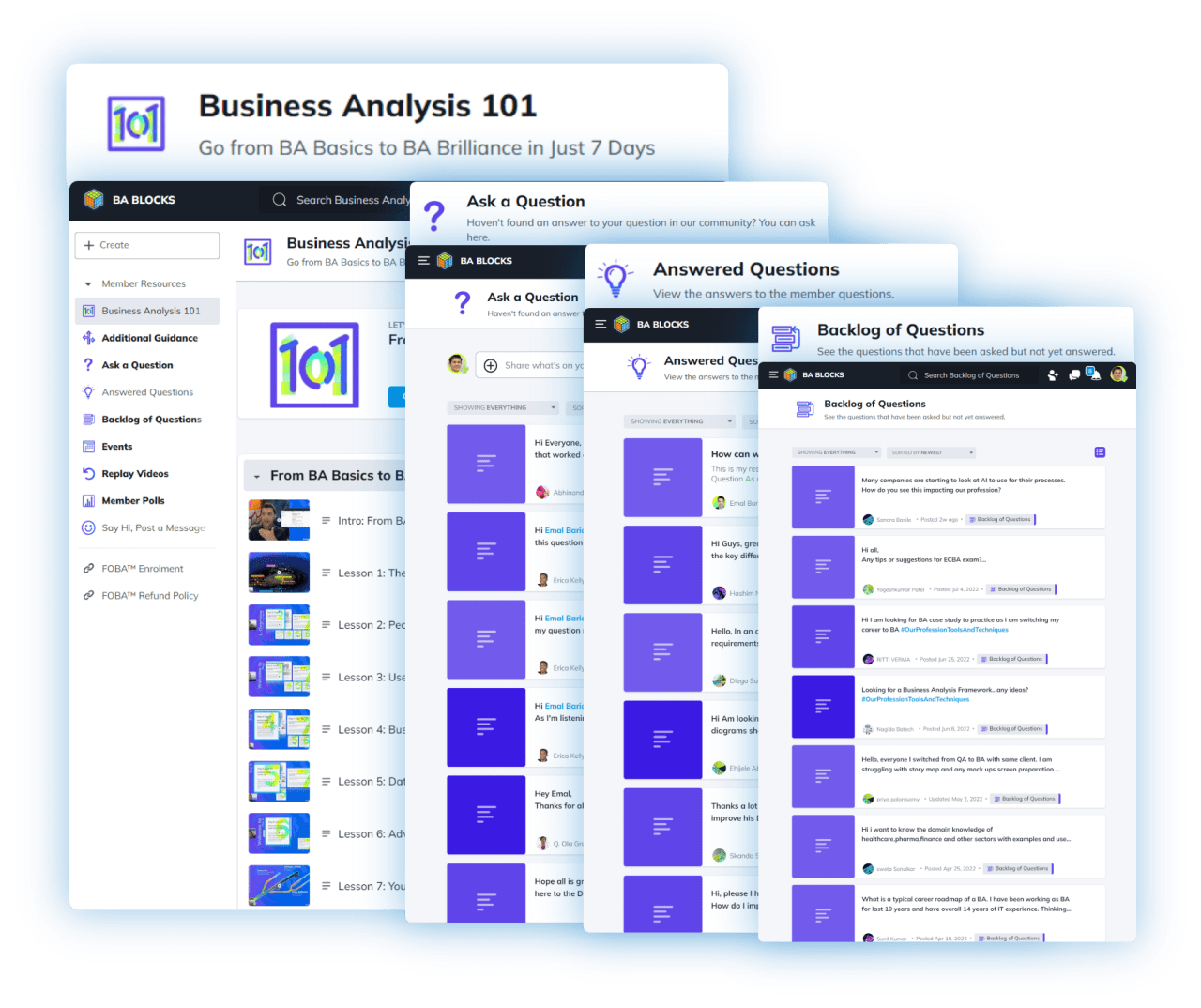 Membership unlocks exclusive access to our advanced learning tools, designed to accelerate your learning and propel your BA career forward.
Business Analysis 101 Course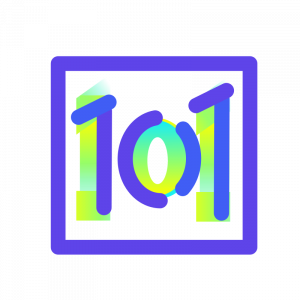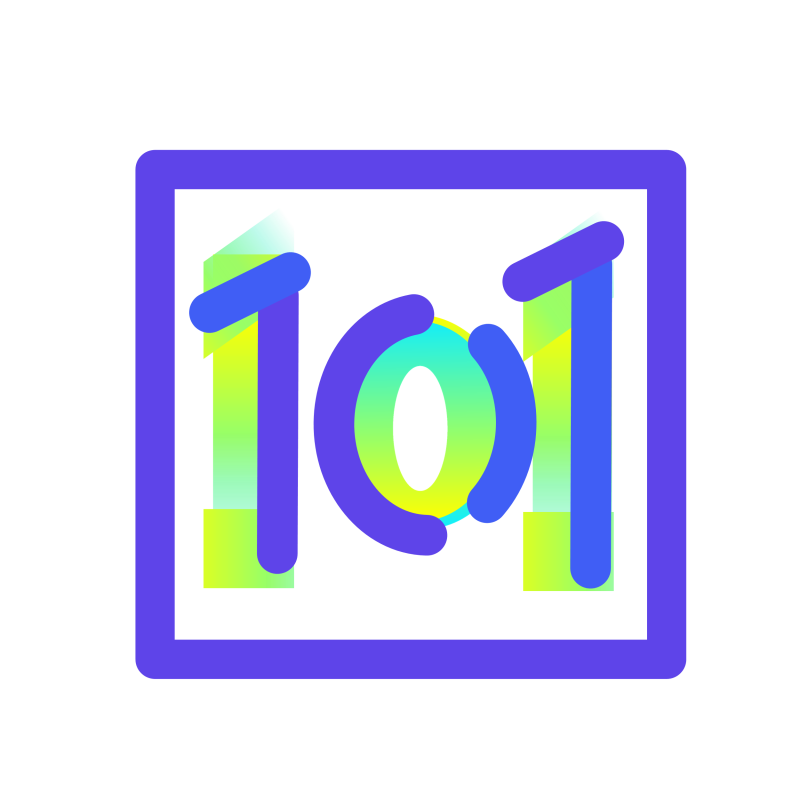 Member Questions & Answers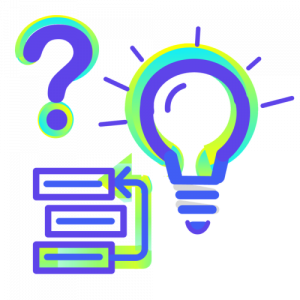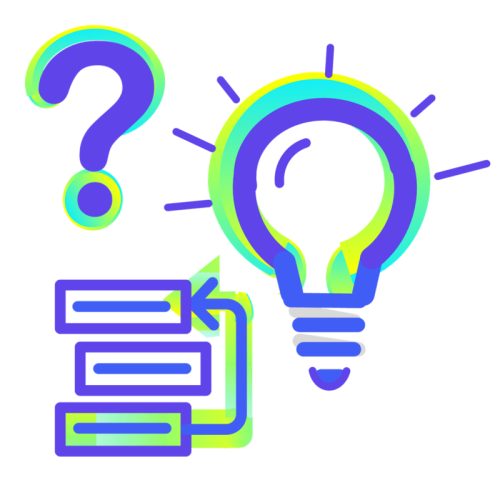 Members  Live Events & Replays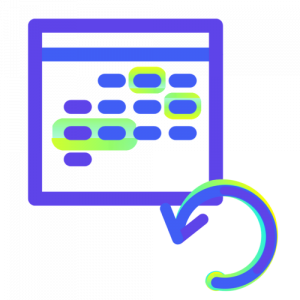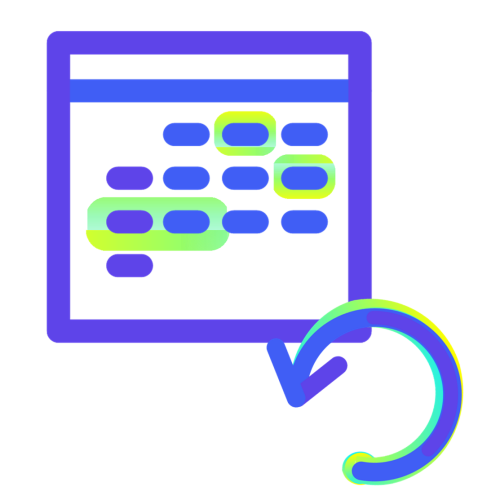 Extensive Resources Catalog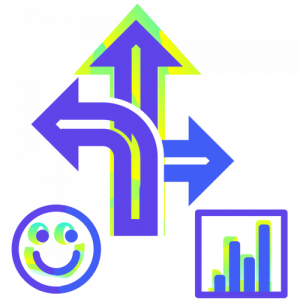 Member Pricing on Courses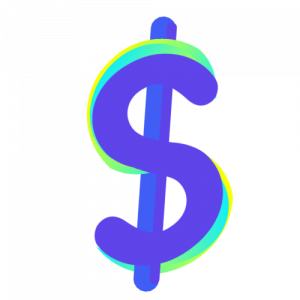 BA Professionals with 40+ Years Experience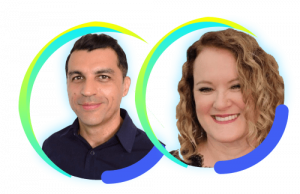 Business Analysis 101 Course
10 hours of video material 
Taking you on a journey across the business transformation universe to give you a deep understanding of the BA profession within its surrounding context.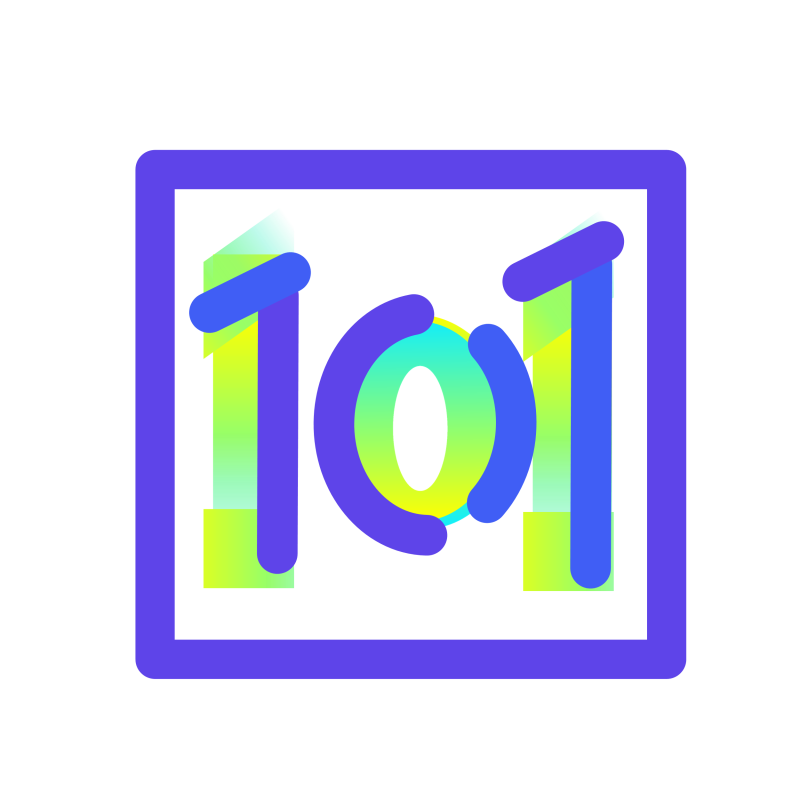 Most business analysts "fall into" the BA profession accidentally.
This means that they have not received the formal training they need to support their project teams or stakeholders through business transformation initiatives.
Without the necessary formal training, it can be difficult to build a theoretical and practical foundation to truly grasp the skills that a BA needs.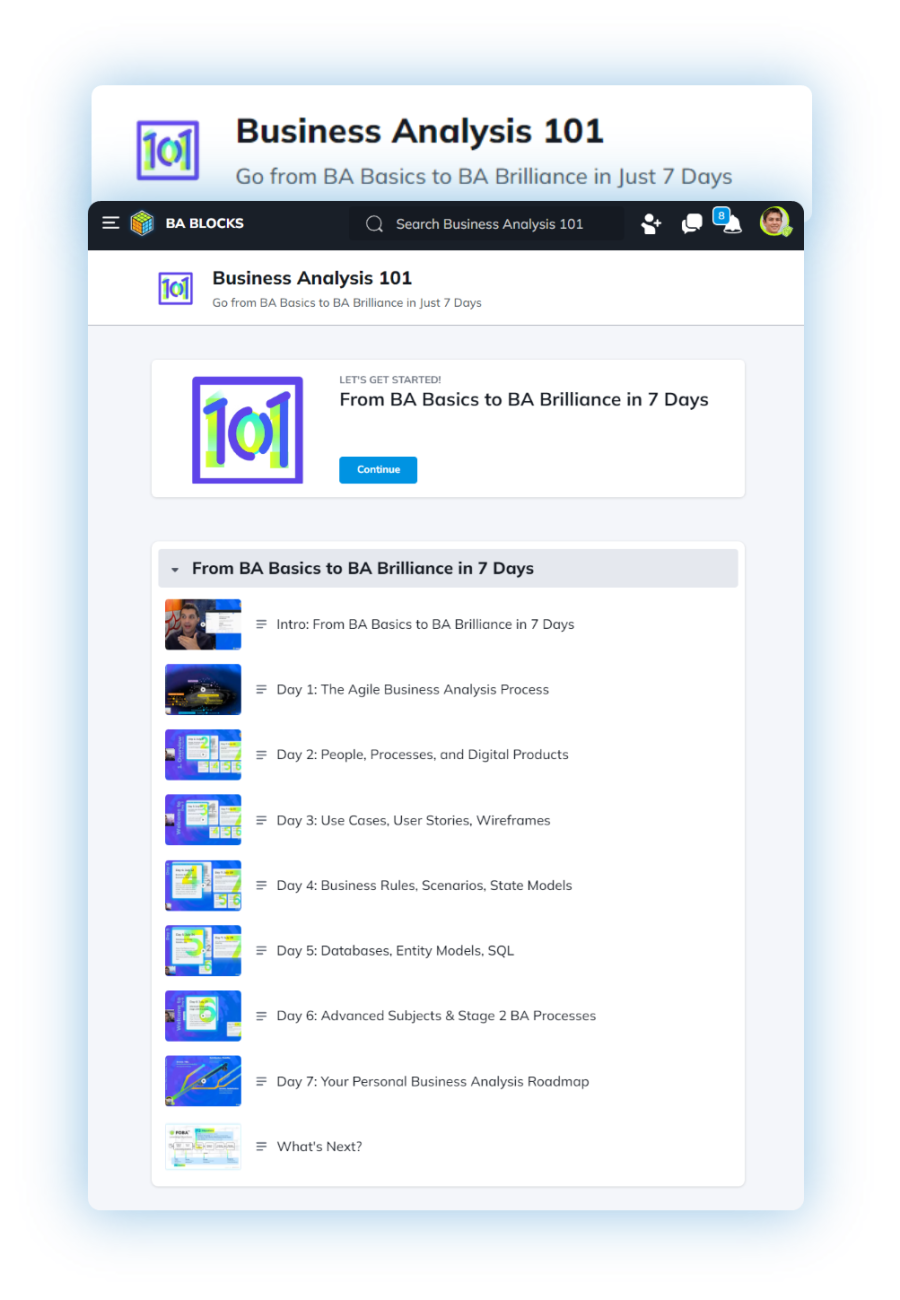 Goal 1: Understand the Universe of Business Transformation and where the BA profession fits within it.
Goal 2: Understand the difference between products and solutions and the skillset that a BA needs to build to deliver holistic solutions instead of standalone products.
Goal 3: Understand the career paths available to you as a BA, and how to begin planning your career with the key factors and your long-term career progression in mind.
This course is designed to give you a tour of the BA profession to teach you the tools and techniques that business analysts need to support their up and downstream stakeholders.
Lesson 1: The Agile Business Analysis Process 
The primary goal of the agile business analyst role is to ensure the optimal performance of existing solutions.
The business analyst ensures business continuity and user/customer satisfaction by handling the ongoing support for the solutions.
LEARNING OBJECTIVES
2.1 The BA Profession in Context
2.2 Tracing the BA Skillset Across the 3 Stages of a BA Career
2.3 Delving into the Agile BA Process
Lesson 2: People, Processes, and Digital Products 
Good business analysts need to have a firm theoretical foundation in enterprise solutions.
This is the foundational knowledge needed to be able to help their customers achieve their goals by delivering well-rounded solutions that address the people, process, and product.
LEARNING OBJECTIVES
2.1 Products vs. Solutions
2.2 BA Work at People Layer of Solution
2.3 BA Work at Process Layer of Solution
2.4 BA Work at Product Layers of Solution
Lesson 3: Use Cases, User Stories, Wireframes
Learning to write good user stories empowers you to capture user needs in an industry-standard format that all your team members can understand.
Use cases and wireframes help you to bring your analysis down to the next level of detail for your key stakeholders.
LEARNING OBJECTIVES
2.1 Stakeholder Analysis & Management
2.2 User Stories & Use Cases
2.3 Wireframes & Screen Specifications
Lesson 4: Business Rules, Scenarios, State Models
Digital products have complex behavior that the business analyst must describe using rules and models.
This is where business rules, scenario analysis, and state modeling come into the picture
LEARNING OBJECTIVES
2.1 What are Business Rules?
2.2 Types of Business Rules
2.3 Categories of Business Rules
2.4 State Models / State Machine Models
2.5 Scenario Analysis
Lesson 5: Databases, Data Models, SQL
Data is the lifeblood of every system. Business analysts need a base-level understanding of the basic structure and function of enterprise systems at the database layer.
LEARNING OBJECTIVES
2.1 Data: The Lifeblood of Every System
2.2 Databases (DMBS)
2.3 Database Design (Data Modeling)
2.4 SQL for Business Analysts
Lesson 6: Advanced Subjects & Stage 2 BA Processes
The agile business analysis process helps you through Stage 1. But Stage 2 business analysts need a richer toolset to deliver COTS and custom projects on greenfield vs. brownfield environments.
LEARNING OBJECTIVES
2.1 Business Cases & Projects
2.2 Green Field vs. Brownfield
2.3 COTS/Saas vs. Custom Products
2.4 Stage 1 to Stage 2/3 Skills
Lesson 7: Your Personal Business Analysis Roadmap
We pull back from the details to see how we can plan our own careers.
LEARNING OBJECTIVES
2.1 Prioritizing The Primary Career Drivers
2.2 Choosing A Career Strategy
2.3 Building Your Career Plan
2.3.1 Assessing Your Current State
2.3.2 Determining Your Future State
2.3.3 Gap Analysis via Skills Assessment
Skills Gap Analysis: Building a Strategic Career Plan
 Video + Worksheet: 1 hr 50 mins
Building a career strategy requires an understanding of the tradeoffs between income, title, stability, and satisfaction.
LEARNING OBJECTIVES
2.1 Natural Aptitudes of a BA
2.2 Permanent vs. Contractor
2.3 Personal Motivators of a Professional
2.4 Job Markets
2.5 Skills Gap Analysis
Get Access to Business Analysis 101
Becoming a member gives you immediate access to the full Business Analysis 101 Course and all other benefits
✓ Full Access to BA 101 Course
✓ Ask your question & learn from other members' questions
✓ Attend all future live sessions, view the catalog of past live sessions
✓ View the full catalog of additional guidance we've provided
✓ Get member pricing on all future courses you take with us
✓ Access to seasoned BA professionals with 40+ years of experience
Member Questions & Answers
With in-depth, actional responses to the most pressing questions from our community members.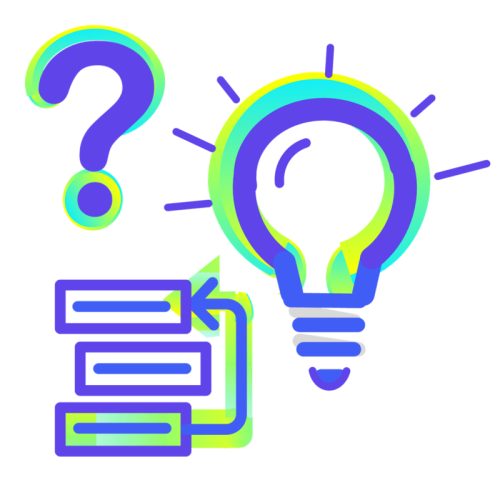 Meaningful, in-depth responses 
We provide in-depth responses to member questions to ensure our members comprehend the subject in a meaningful way.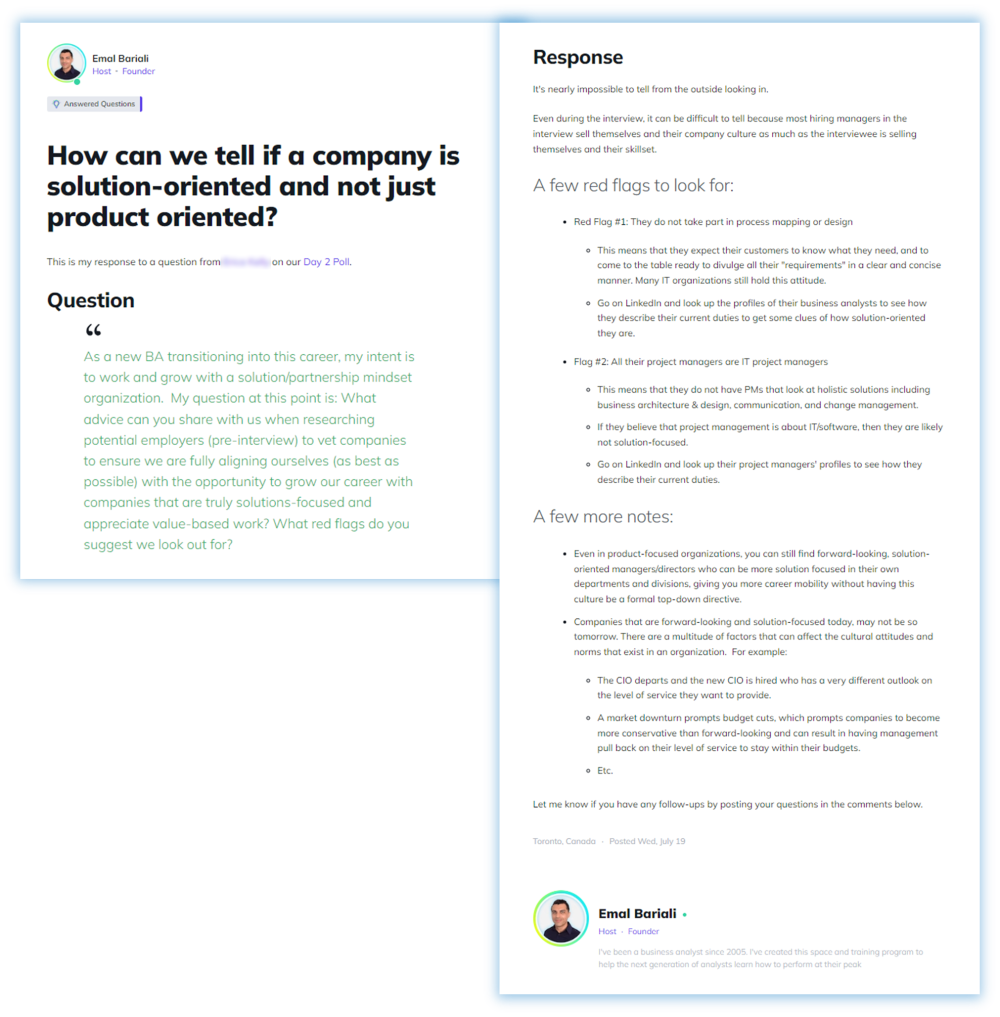 Actionable, objective guidance 
We provide specific actionable steps that members can start taking right away to help them overcome their challenges.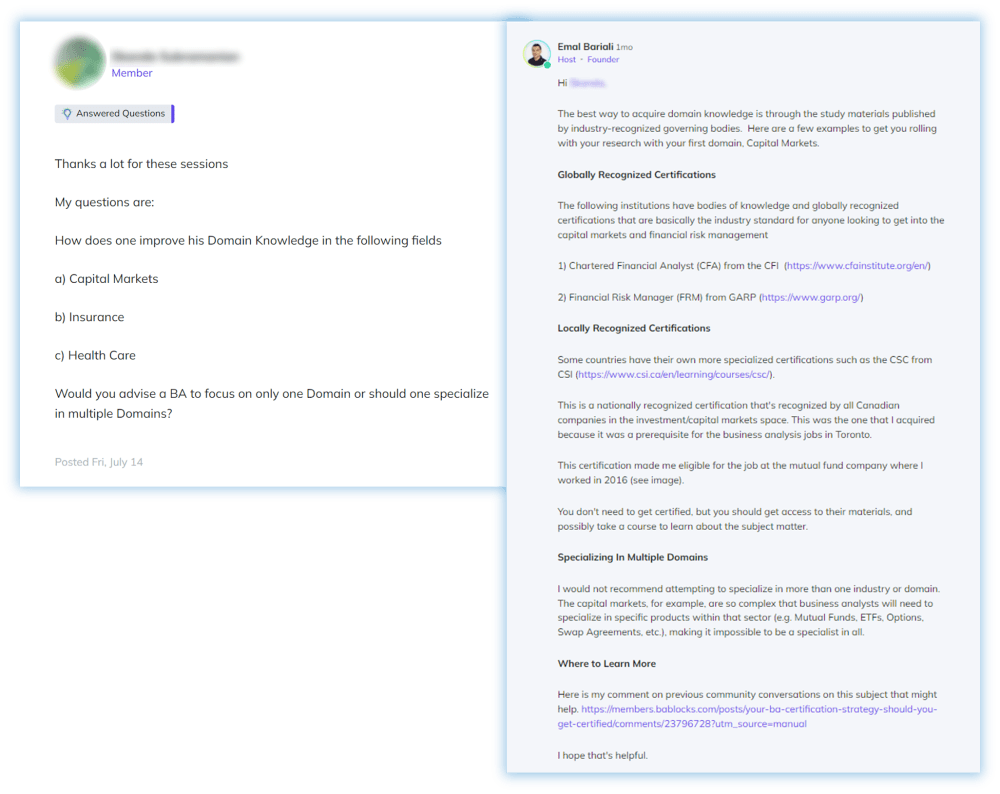 Monthly members-only live sessions 
Our members vote on the topic and we go live for an in-depth coverage of the selected subject.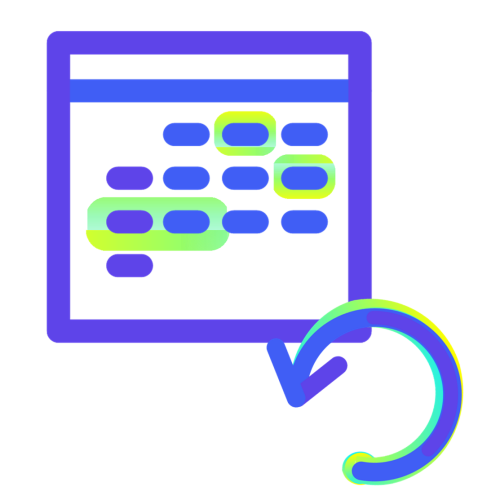 Member driven, instructor supported
We put the the most topical subjects up for a vote to let our members decide what they need to learn in our live sessions.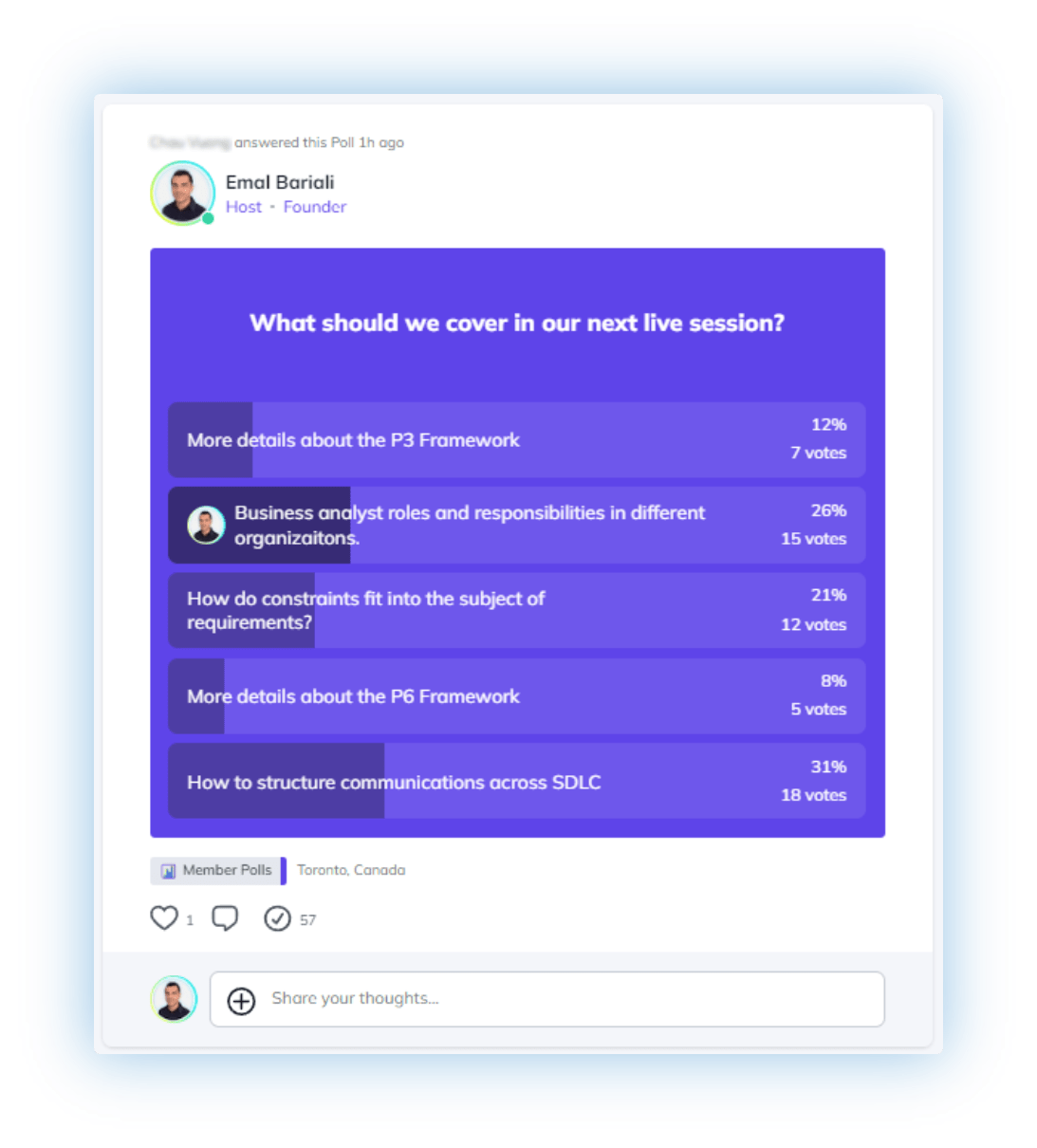 Regular events & replays of past events
We meet once a month and members get full access to the catalog of replays of past events to get caught up on the subjects they're most interested in learning.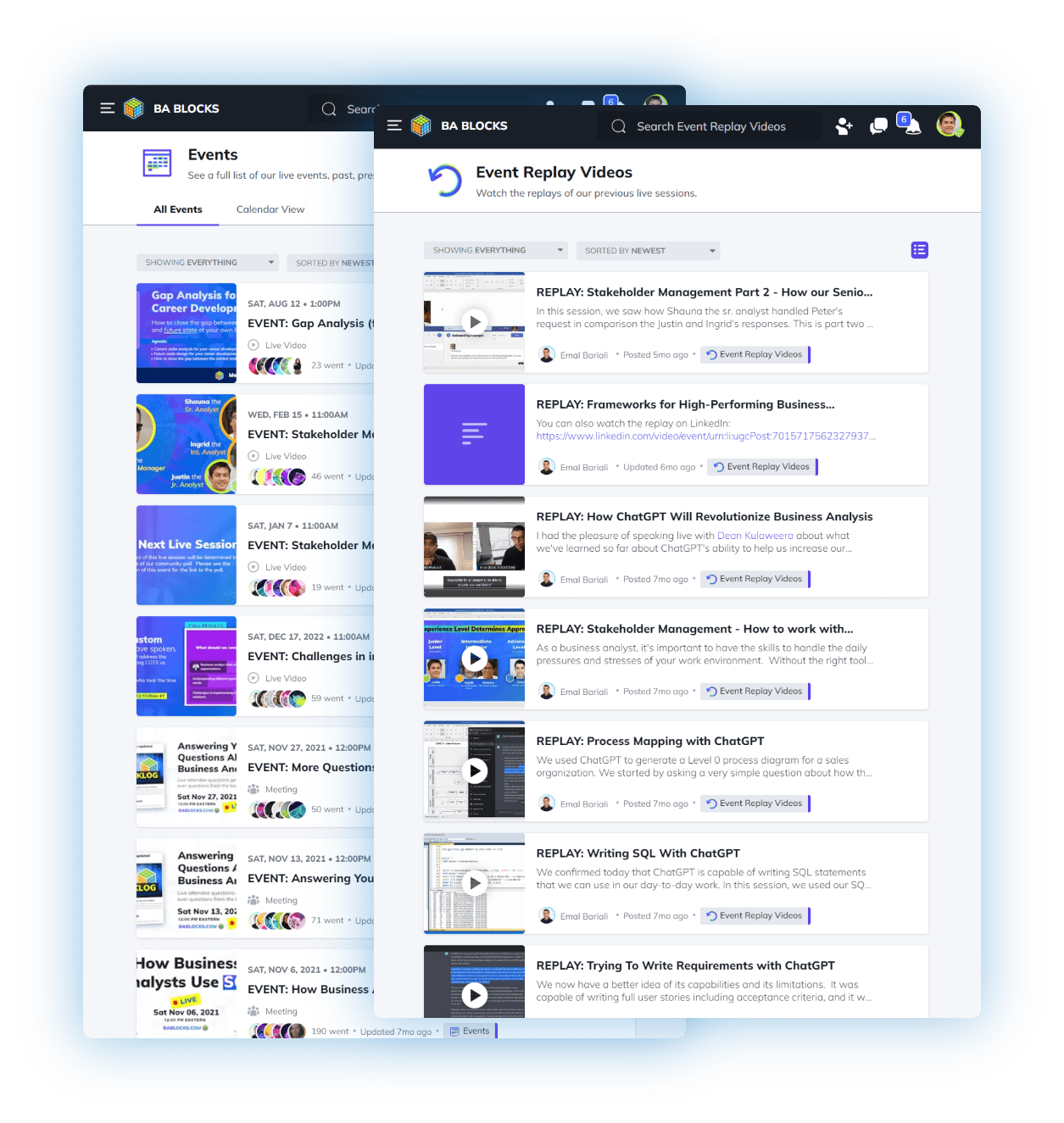 Access to All Member Resources
Unlock full access to our exclusive community resources, enriching learning material, and networking opportunities.
Full Access to Back Catalog of Guidance Provided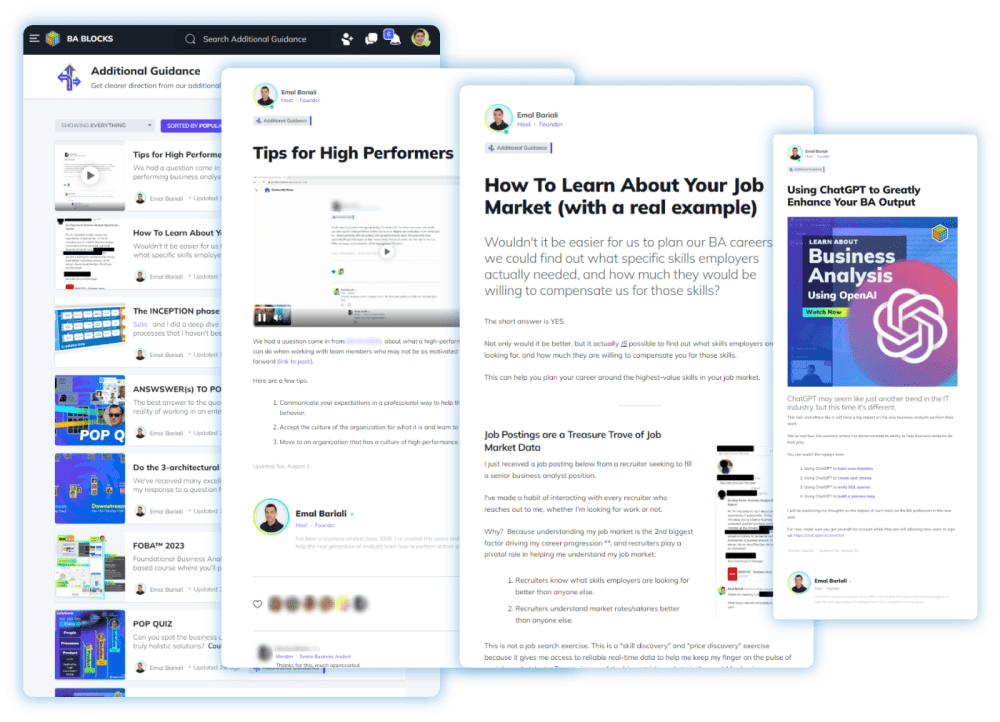 Members Receive 12% to 20% Off FOBA™ and BAPC™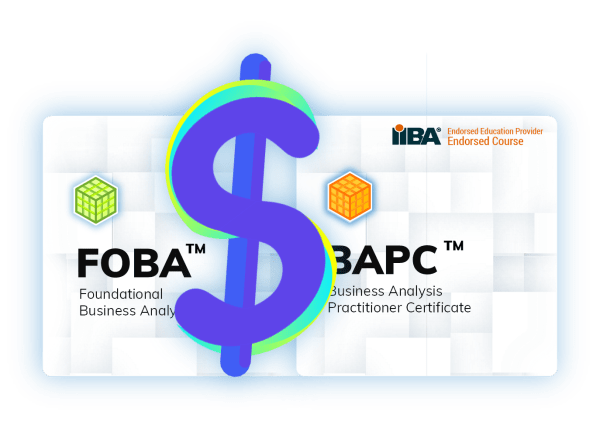 Access To Experienced BA Professionals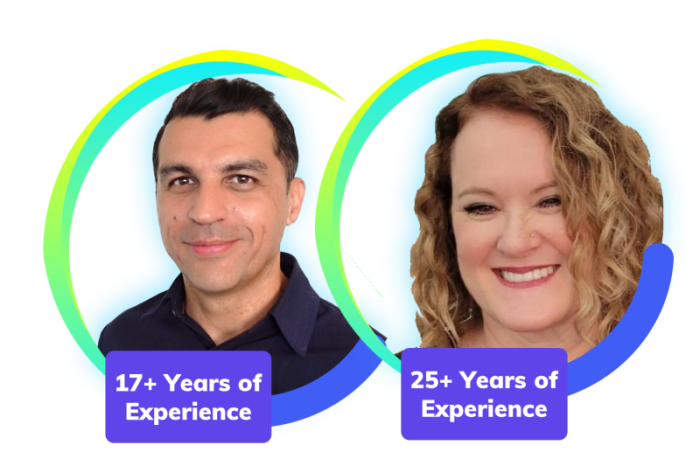 By joining us, you will receive immediate access to all our community resources including our business analysis 101 course.
✓ Full Access to BA 101 Course
✓ Ask your question & learn from other members' questions
✓ Attend all future live sessions, view the catalog of past live sessions
✓ View the full catalog of additional guidance we've provided
✓ Get member pricing on all future courses you take with us
✓ Access to seasoned BA professionals with 40+ years of experience