Produce real BA deliverables, and get direct
on your work from experienced BA professionals.
FOBA™ and BAPC™ are hands-on, project-driven experiences that challenge you to grow. With our unique case-based approach, you'll not only learn but also apply your knowledge by creating actual project deliverables.
Foundational Business Analysis
FOBA™ is a 12-week practicum designed for career starters looking to build their base skillset and for experienced professionals seeking to fortify their existing skills with formal training in the stage 1 skillset.
Learn how to deliver product enhancements using an agile solution delivery process.
✓ Role Analysis
✓ Business Process Modeling
✓ User Stories & Use Cases
✓ Wireframes and Screen Specifications
✓ Data Modeling
✓ Backlog Prioritization
Business Analysis Practitioner Certificate
For Professionals with 3 to 8 Years of Experience
For Professionals with 3 to 8 Years of Experience
Learn how to lead your stakeholders through an end-to-end project by designing a holistic solution with industry-standard BA techniques.
✓ Stakeholder Analysis
✓ Current State Analysis
✓ Future State Design
✓ Business Requirements Document
✓ Product Backlog Creation
✓ Functional Specifications
A 10-hour comprehensive introduction to the business analysis profession that you can learn on your own time (on-demand).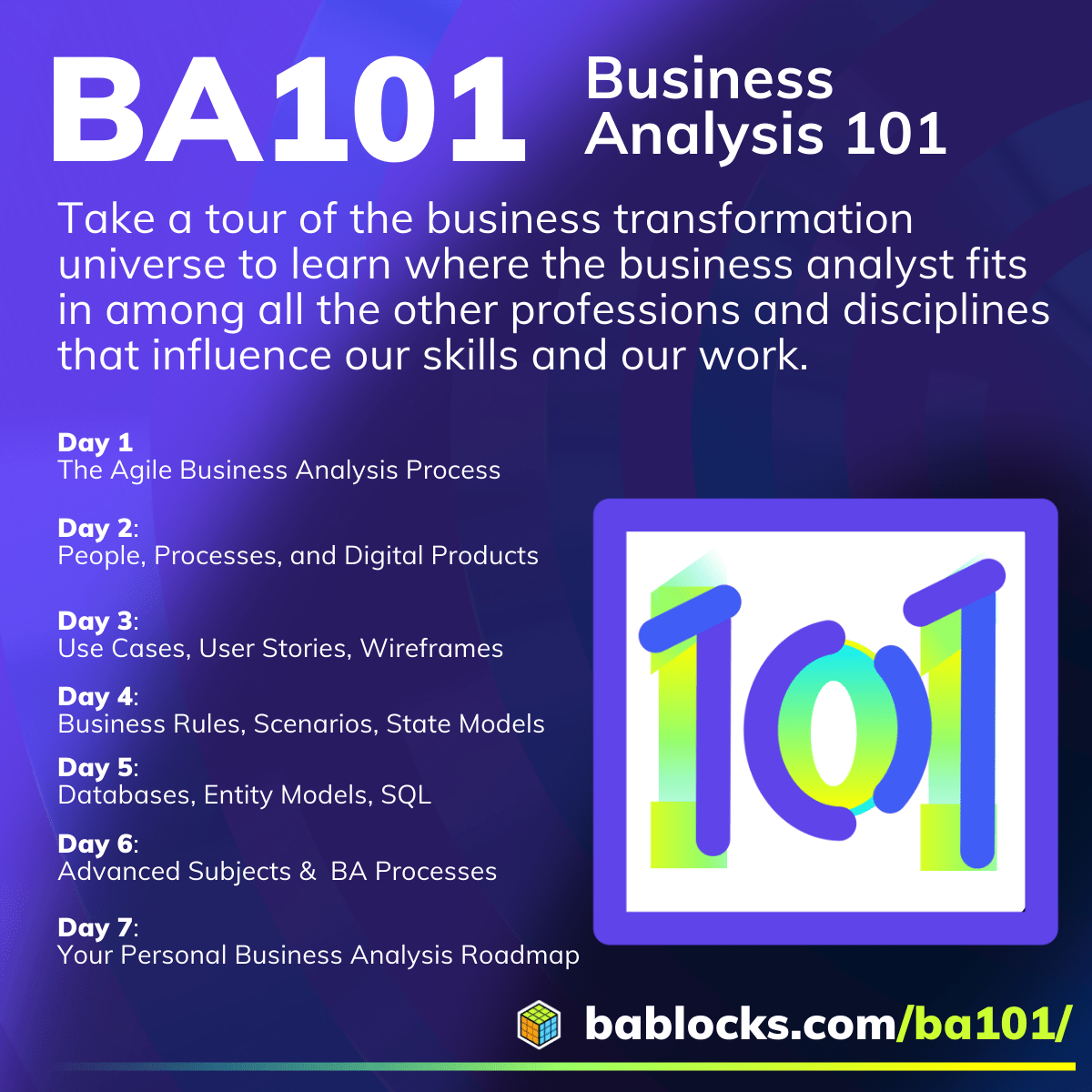 Are you an Accidental Business Analyst?
Most business analysts often "fall into" the BA profession accidentally.
Without the necessary formal training, it can be difficult to build a theoretical and practical foundation to truly grasp all the different aspects of our profession.
Take a tour of the business transformation universe to learn where the business analyst fits in among all the other professions and disciplines that influence our skills and our work.