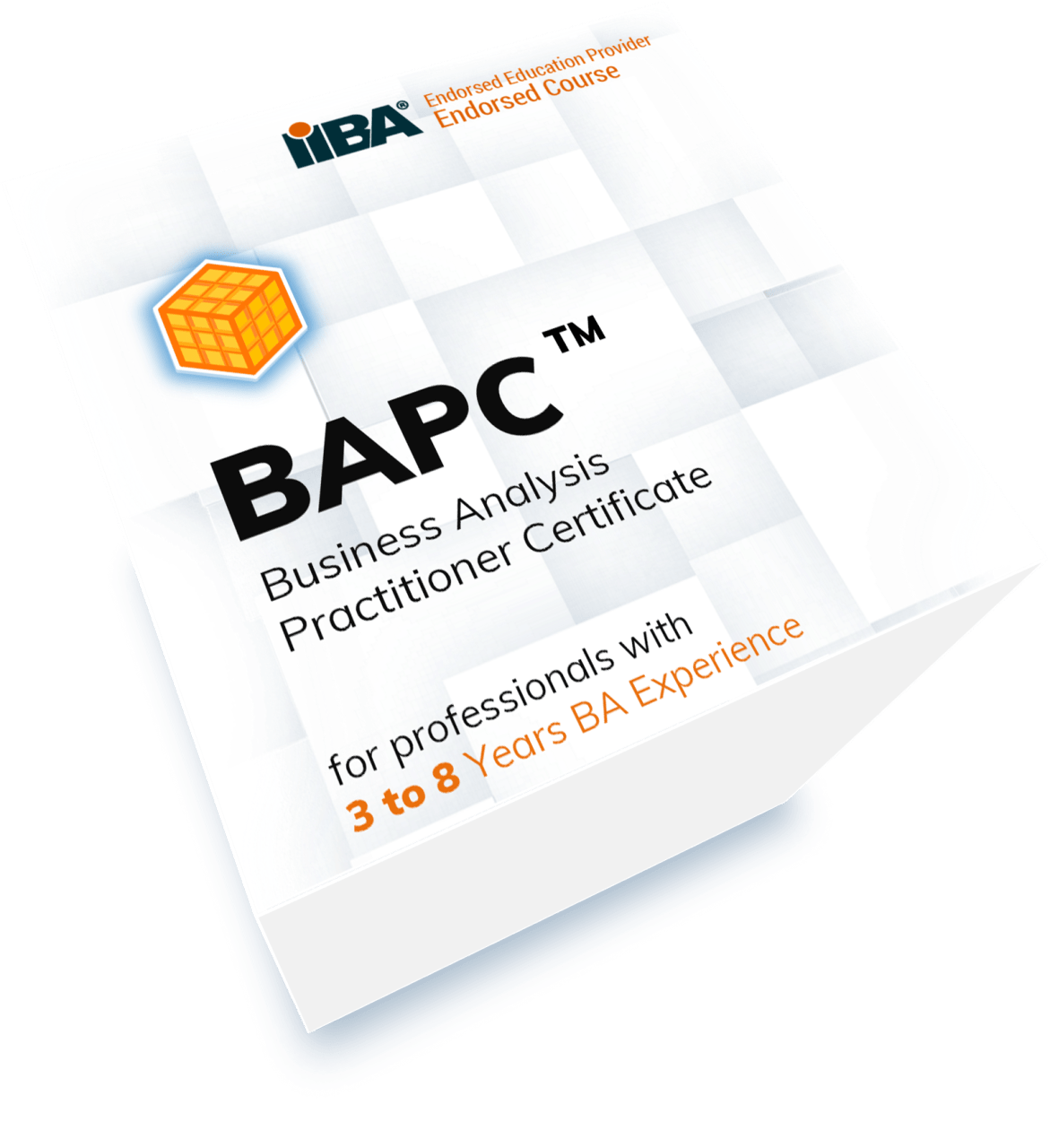 Produce real BA deliverables, and get direct feedback on your work from experienced BA professionals.
BAPC™ is a 10-week accelerated program where you'll produce the core BA deliverables your team needs to create high-quality digital products in enterprise environments.
Some of the core skills you can expect to learn include:
How to conduct stakeholder analysis in a complex environment.
How to analyze, structure, and create business processes that flow directly into your requirements.
How to produce a business requirements document (BRD).
How to convert your BRD into a prioritized product backlog.
How to elaborate the backlog items into functional specifications.
How to manage the product backlog through an agile project.
To produce these deliverables, you can:
Use your own past, present, or future project as the case study, or
Use Project Synthesis, our model project where you'll help design an intellectual property management solution for Peterson & Baker.
You will also earn 40 PD/CDUs to help you qualify to take the CBAP certification exam or to help you renew your current CBAP certification.
EXPERIENCE A COMPLETE PROJECT 
Covering a Full End-to-End BA Process 
High-performers are trained to deliver a project from start to finish.
The BAPC™ curriculum is designed to walk you through all the stages of the SDLC  for a custom-build project from end to end.
You'll be onboarded into the project team as an intermediate business analyst, and learn what it takes to produce deliverables for a large-scale project under the guidance of a lead BA.
This immersive method of learning allows you to "feel" the real-world pressures of enterprise environments, and overcome the obstacles of delivering in complex scenarios.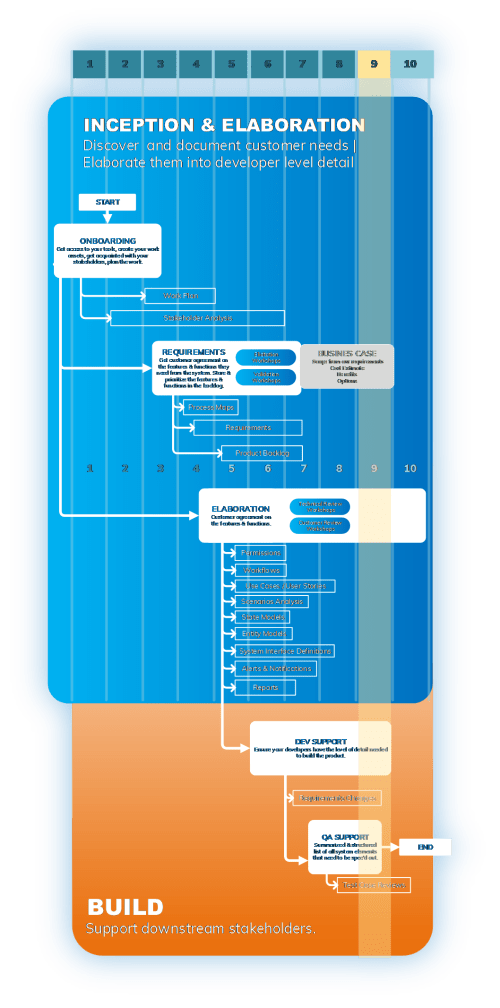 Designed for the Enterprise 
Real-world challenges require real-world tools.
You'll get access to the latest enterprise toolset that large organizations use.
We will be using the following tools to perform our analysis, model our requirements, share our work, and collaborate as a team.
1. SharePoint team site for sharing and collaboration
2. Visio for modeling and analysis
3. Office 365 for documentation
4. Azure DevOps Boards for product backlog management
5. MS Teams for meetings and collaboration
You'll receive access to these tools in week 1 of your onboarding and use them for the entire length of the course,
AN IMMERSIVE LEARNING EXPERIENCE
Using Proven Case-Based Learning Methods
Peterson & Baker is hiring us to help them solve a major business problem.
You'll become acquainted with the personalities involved in our project through our stakeholder analysis.   You'll also see how the different perspectives and competing interests of our stakeholders make our requirements & specification work so much more difficult than they would be on a simpler project.
Simulating a project in a realistically complex enterprise helps you to understand and overcome the challenges that you wouldn't otherwise learn in a traditional training program.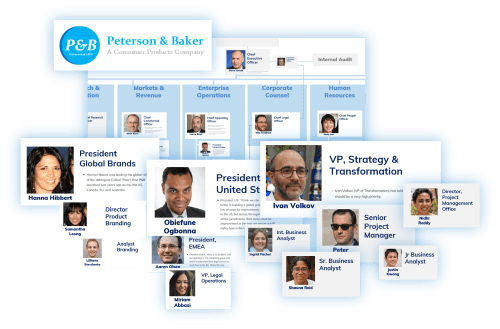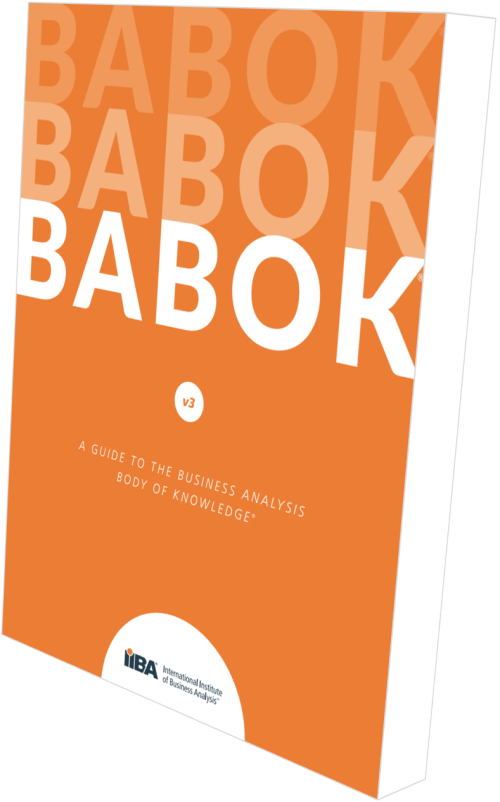 USING INDUSTRY STANDARD TOOLS & TECHNIQUES
Fully Aligned with IIBA's BABOK v3
The BAPC™ curriculum is fully aligned with the tools, techniques, and perspectives cataloged across the 6 areas of the BA Body of Knowledge from the IIBA. The successful completion of this course awards you 40 PD/CDU credits toward your CBAP certification/re-certification.
BABOK v3 currently contains the most comprehensive catalog of the standard tools and techniques that business analysts can learn and deploy to help their companies overcome the business transformation challenges they experience.
This course will teach you how to operationalize the key tools & techniques of the BABOK v3.
What Our Students Are Saying
Jeremie F.
Business Analyst, Australia
I came across the BA Blocks community and decided after a while to take Emal's Business Requirements and Functional Specifications course. I am glad that I did.
The quality of Emal's teaching and his dedication to his students is amazing. By the end of the first day, I had actionable insights that I could take to the workplace. The depth of Emal's experience and his obvious passion for teaching makes him a gifted teacher.
I really enjoyed this course and learned a huge amount about my profession. You should try it too.
Danielle R.
Senior Manager, Business Analysis, Canada
Already CBAP certified and having attended several professional development courses/programs, I was looking to upscale my existing business analysis skillset and knowledge to take me to the next level.
After wading through many options, I stumbled across BA Blocks, there was something different about it.  Almost immediately what was different became glaringly obvious, this wasn't just a business seeking to maximize profit, this was a passionate, highly skilled trainer and BA practitioner, who was a master at business analysis.
In addition to this and much to my surprise was also a caring, very ethical, and passionate mentor, who walked the walk right alongside his students helping each one to achieve success
I have taken almost all of his courses so far (the only restriction is time on my side), and I will everyone he offers.
There is no one on the market that can come close to offering what Emal offers his students.
Malia B.
CBAP, Portfolio Manager, United States
I'm an experienced BA practitioner and joined BA Blocks to learn more about and connect with Emal.
I enrolled in the requirements and specifications course and can attest his knowledge, skillset, and practical experience is a gift to his students. His approach to teaching the core business analysis concepts and the fundamentals of the Enterprise Solution Delivery (design) Process is, bar none.
His teaching is practical and provides students the opportunity to understand the whole aspect of business analysis is greater than the sum of parts.
Malika A.
Business Technology Consultant, United States
I completed the Business Requirements & Specifications course in December 2020 with Emal. After researching several online BA courses and instructions, BABLOCK is the one I chose to learn from and I highly recommend it.
I found the course extremely useful as a new business process analyst with no technical and business education background.
The real-world example approach Emal used, helped me understand where a business analyst operates in the different organizations across technology domains and how they help a business achieve success with sharp analytical skills.
I learned the BA mindset and core business requirements and specification processes and techniques.
I found BABLOCK at the right time as Emal's advice and BABLOCK's Business Analysis learnings is now helping me navigate this career path.
Business Analysis 101 Course
10 hours of video material 
Taking you on a journey across the business transformation universe to give you a deep understanding of the BA profession within its surrounding context.