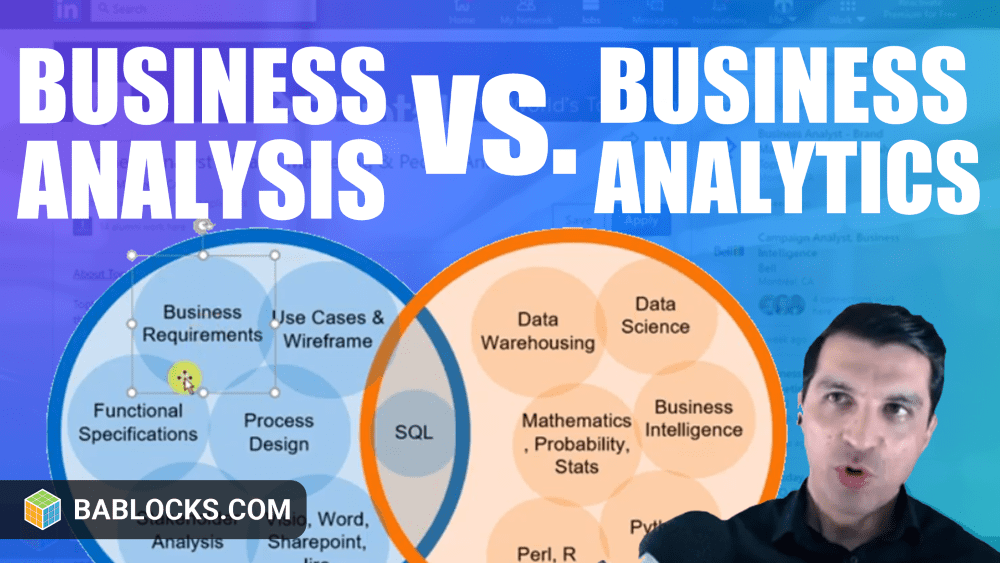 Business analysis and business analytics might sound the same, but they are two completely different professions. This article and video describe the difference between these two professions.
The Educational Provider edX Makes A Mistake
Last week, we looked at the website of edX, which is a large institutional course provider. We saw how edX had published a page called business analysis, but, when we looked at the "courses" page of the site, we realized that there were no actual business analysis courses there.
All the courses they had listed were either business analytics, business intelligence, or data analysis courses. The way that they had packaged it up, and the way that they had blended the words "analysis" and "analytics" would mislead most people into thinking that the courses they're offering are analysis related courses.
In reality, they're mistakenly blending two completely different professions .
Employers Can Also Make Such Mistakes
The job posting we cover in this video makes the same mistake as edX. But now this is the confusion that's coming from an employer, not an education provider.
This employer has basically mis-titled their business analytics role as a business analyst role.
A Mistitled Business Analytics Role
The employer has written the job title in the same pattern that you would normally see for business analyst jobs, but when we look at the skills for the job, we start to realize very quickly that the role they're advertising isn't actually a business analyst role.
We can look into the job description to see what skillsets they're looking for. Once you look into the details, it'll be crystal clear to you that this is not a business analyst role.
The Actual Jobs Requirements
They're saying that they want three plus years of experience in business analytics or business intelligence. Right away, we can tell that it's not a business analyst role. They're looking for experience with business intelligence tools such as Tableau, which is a very popular, BI/data warehousing reporting tool.
Tableau is a suite of software that accumulates data from a lot of different sources inside a company, and it lets the business intelligence team inside that company produce reports from the accumulated data.
Business Intelligence Teams
The business intelligence teams in most companies are sometimes part of the business are that is responsible for producing reports. The type of business analysts that we are, we don't often take part in those types of activities, unless you're a business analyst that specializes in business intelligence?
This Role Requires Programming
What this employer is looking for is somebody with a strong programming background that can help them do data science related work. The other major indicator is that they are seeking someone with knowledge of what are called "scripting languages".
Unless you sure programmer, or if you're a very, very technical systems analyst, you're not going understand how to do any kind of scripting in either R or Python, or you're not going to know how to use MATLAB.
Some technical business analyst roles can ask you for SQL, but business analyst roles we will not ask you to know how to write scripts using R or Python. The types of roles that ask for such scripting languages are typically data science, or business analytics roles that are missed titled as business analyst roles.
How To Tell The Difference
Looking at a Venn diagram like this can help you to understand the difference between these two different roles so that you no longer have to rely on external education providers to tell you the difference between the two roles.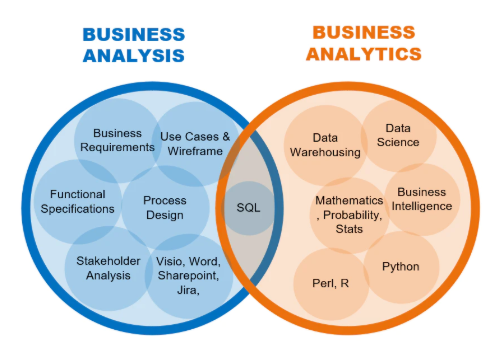 And even if an employer mislabeled their job title, you should be able to use this diagram to tell for yourself whether that's a business analysis role or something else.
Typical Business Analyst Job Requirements
Typically what you're going to see in the difference between these two roles is that most business analyst roles are going to ask you to do things like business requirements, functional specifications, use cases in wire frames.
A lot of them will ask you to do process design work as well. The tools that they'll ask you to have are things like Visio, Word, SharePoint, JIRA.
Those are the types of skills that most business analysts use in an enterprise context.
Typical Business Analytics Job Requirements
If you were to look at business analytics role, you're going to see a lot more skills like the orange part of the Venn diagram.
If you see these types of job requirements then you should automatically disqualify that as a business analytics role, regardless of what the title says. These skills are not the type of skills that we as business analysts acquire for our profession.
These are the types of skills that usually former programmers and mathematicians acquire to do data science related work.
So if you were to look at the job sample and you see the word data science, data warehousing, business intelligence, it should be very strong indicator that this isn't a business analyst role
If they ask you for qualifications in mathematics, things like probability or statistics, then that should be a dead giveaway that the employer is not looking for a business analysis role, but rather are looking for a data science or a business intelligence related role.
If you see things like Python and Pearl, these are scripting languages. Ff you see those, then you can immediately write that job application off as being more of a business intelligence or a business or a data analytics role versus a business analysis role.
Hopefully this gives you a little bit more clarity in terms of your own career development, because if you continue to get confused over these two different roles, there's a chance that you might spend some of your time trying to learn Python or Perl, or some of the other things that they're asking for, not really realizing that you're not actually going to be using those skills in your business analysis job
What About SQL?
SQL is a skill that gets asked for in some of the technical business analyst roles and most business analytics or businesses intelligence will ask you to have SQL.
This is because SQL is a critical tool for extracting data out of systems and some systems analysts will do that for some reporting needs.
If you're more of a process analyst, or if you're a generalist BA they might not necessarily even ask you to have SQL. It might be a skill that you want to learn to try to have in your tool belt to expand your horizons.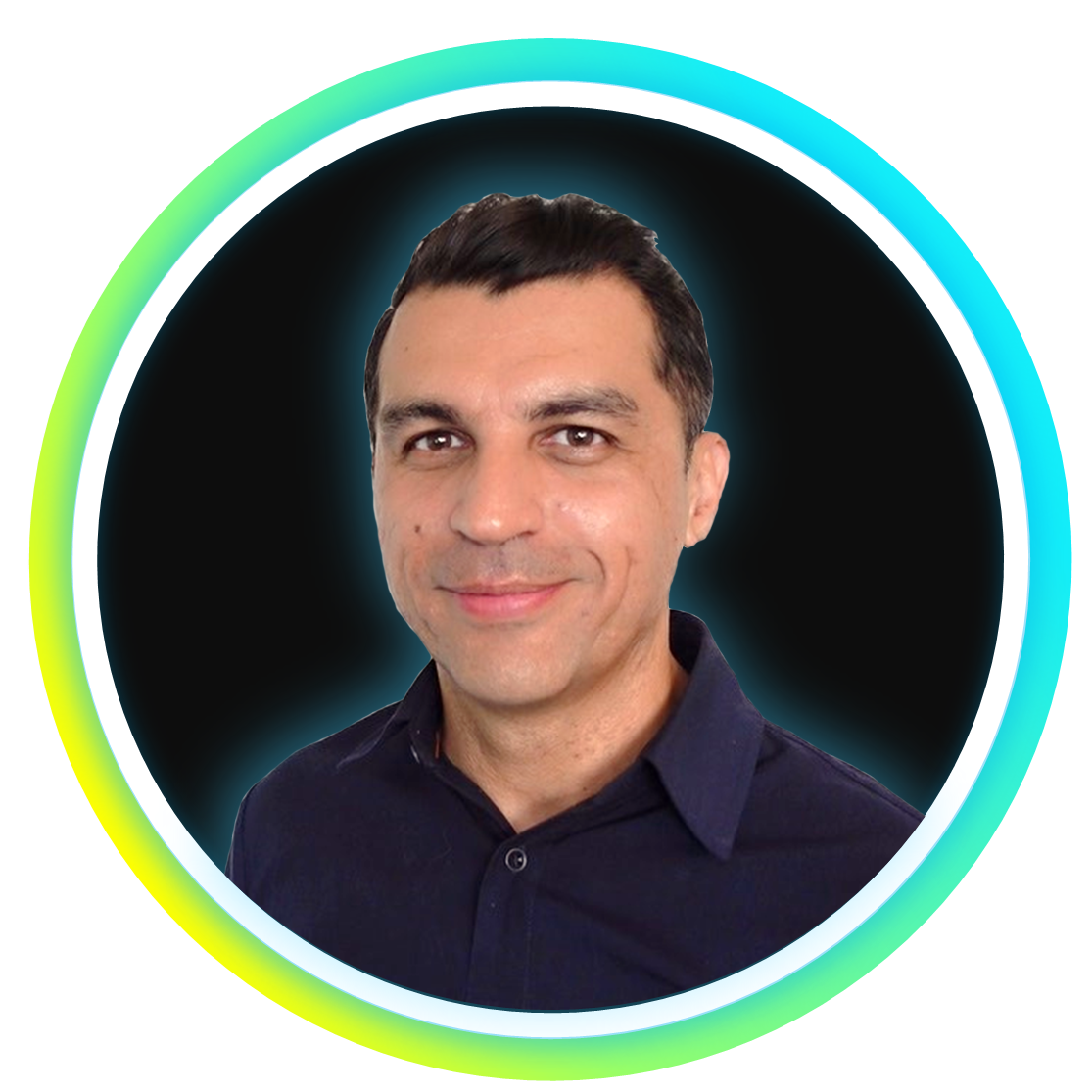 About the Author
Emal Bariali is a seasoned business analysis professional with 20+ projects executed since starting his BA career in 2005.
Emal has managed to 5x his yearly business analysis income by developing his BA skills and transitioning to BA consulting in one of the strongest BA job markets in the world: the Greater Toronto Area