Learn How To Deliver New Digital Products 
BAPC™ takes you through an IPMS project in a simulated enterprise environment. 
BAPC™ is a 16-week practicum where you'll produce the BA deliverables your team needs to create new high-quality digital products to support the enterprise intellectual property management processes of a large global multinational corporation. This course is designed for:
✓ Business Analysts with at least 3 years of experience in enterprise environments, or
✓ Aspiring business analysts who've successfully completed the FOBA™ course.
You will also earn 40 PD/CDUs to help you qualify to take the CBAP certification exam or to help you renew your current CBAP certification.
This is a hands-on project-based course where you'll produce the core BA deliverables your team needs to build a new digital product in an enterprise environment.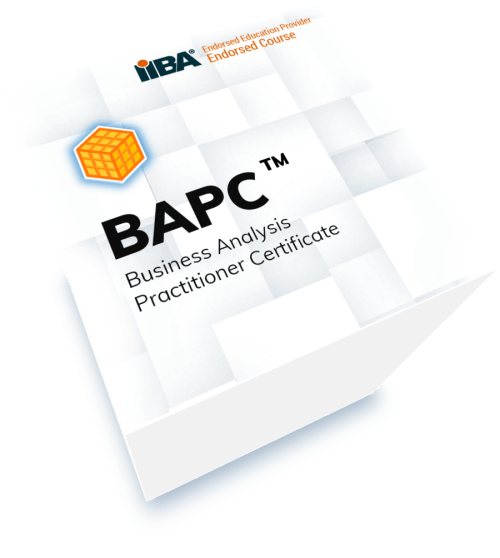 The Next BAPC™ Session Starts in July 2024! 
Sign up to get notified of pricing, payment plans, enrolment dates, and details.
We will only send you materials related to business analysis.  We never spam or sell your email address.
BAPC™ leads you through an IPMS project where you'll produce the deliverables your upstream and downstream stakeholders require from you to build a new Intellecutal Property Mangement System.
The project will be presented to you in a case study format containing the information you need to produce your deliverables. The case study will contain perspectives from all stakeholders involved in the initiative. Your job is to interpret the stakeholder needs into deliverables for your project team.
✓ Experience a Complete Project
The BAPC™ curriculum is designed to walk you through all the stages of the SDLC  for a custom-build project from end to end.
You'll be onboarded into the project team as an intermediate business analyst, and learn what it takes to produce deliverables for a large-scale project under the guidance of a lead BA.
This immersive method of learning allows you to "feel" the real-world pressures of enterprise environments, and overcome the obstacles of delivering in complex scenarios.
✓ Use Real World Enterprise Class Tools
You'll get access to the latest enterprise toolset that large organizations use.
We will be using the following tools to perform our analysis, model our requirements, share our work, and collaborate as a team.
1. SharePoint team site for sharing and collaboration
2. Visio for modeling and analysis
3. Office 365 for documentation
4. Azure DevOps Boards for product backlog management
5. MS Teams for meetings and collaboration
You'll receive access to these tools in week 1 of your onboarding and use them for the entire length of the course,
The course is a mix of video releases and live sessions, with the added benefit of assignments that require you to produce deliverables that are reviewed by an experienced BA professional for feedback and grading.
You will learn the

people

,

process

,

product

, and

project

skills you need to perform in real-world complex enterprise environments.

✓ An Immersive Learning Experience using Proven Case-Based Learning Methods
Peterson & Baker (our model org) is hiring us to help them solve a major business problem.
You'll become acquainted with the personalities involved in our project through our stakeholder analysis.   You'll also see how the different perspectives and competing interests of our stakeholders make our requirements & specification work so much more difficult than they would be on a simpler project.
Simulating a project in a realistically complex enterprise helps you to understand and overcome the challenges that you wouldn't otherwise learn in a traditional training program.
✓ Using Industry Standard Tools and Techniques, 
Fully Aligned with IIBA's BABOK v3
The BAPC™ curriculum is fully aligned with the tools, techniques, and perspectives cataloged across the 6 areas of the BA Body of Knowledge from the IIBA. The successful completion of this course awards you 40 PD/CDU credits toward your CBAP certification/re-certification.
BABOK v3 currently contains the most comprehensive catalog of the standard tools and techniques that business analysts can learn and deploy to help their companies overcome the business transformation challenges they experience.
This course will teach you how to operationalize the key tools & techniques of the BABOK v3.
More Details Coming Soon!
Signup to get notified of enrolment dates and details.
We will only send you materials related to business analysis.  We never spam or sell your email address.