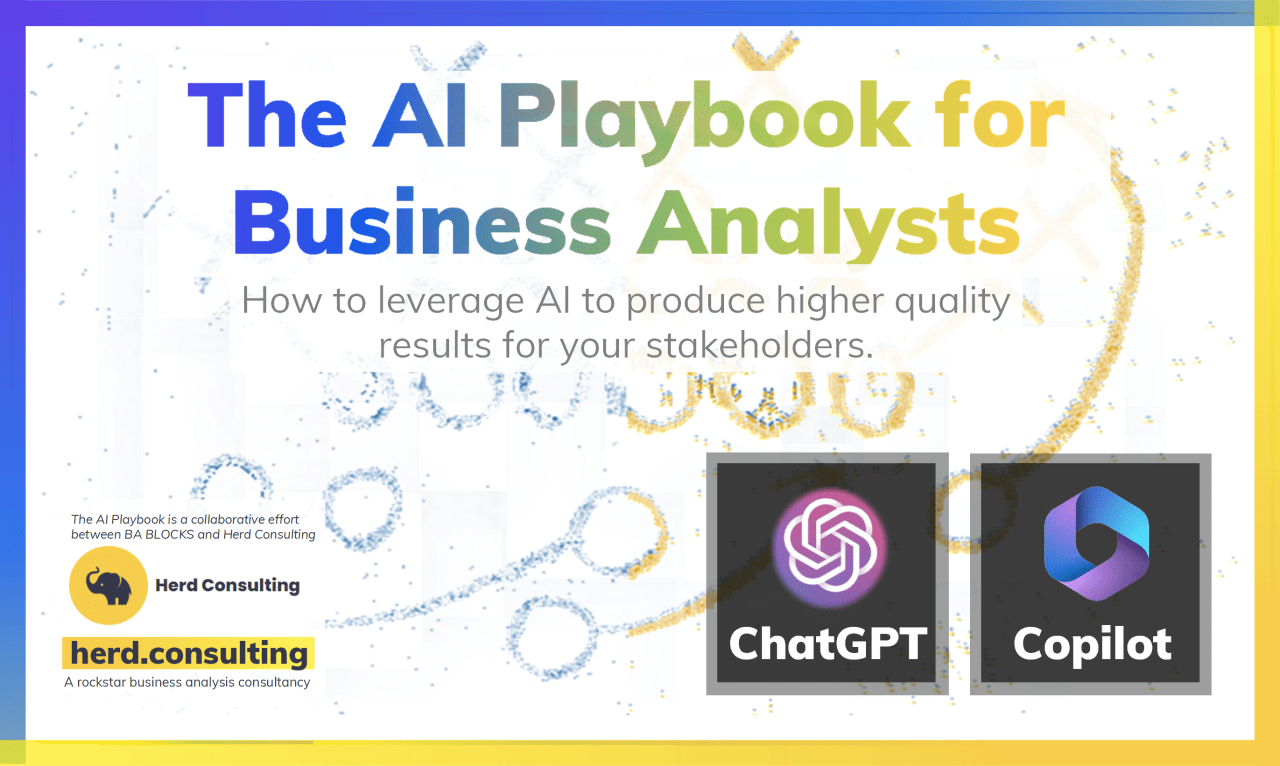 We're researching AI adoption for business analysis and publishing the results.
Artificial intelligence tools have reached the level of maturity that makes them useful for business analysts in their day-to-day work.
The AI Playbook for Business Analysts will provide the business analysis community with a step-by-step guide on leveraging the latest in AI to help them boost the value they provide.
Once published, this will be a "living guide" that we update regularly with the latest in the fast-changing AI landscape.
Prompt Engineering Best Practices for Business Analysts
Throughout our research, we've discovered that the following 6-step usage pattern works best for business analysts interested in getting the most out of their AI tool while mitigating some of the major risks that exist.

This guide will elaborate on each of the use cases that we've captured in our research roadmap using this interaction pattern to maximize the output that analysts yield from their interaction with the AI tool(s).
Step 1: Clarify Your Ask
Business analysts need to clarify their own objectives on the subject they are looking to run through AI. Many AI tools will make assumptions on behalf of the analyst if the analyst does not provide adequate context or background for their query. These assumptions, often unstated, may guide the conversation down the wrong path.
Clarifying your ask allows you to design a great prompt.
Step 2: Design Your Prompt
Business analysts need to carefully design the question that they wish to submit to the AI. This involves the careful selection of the words, and the contextual framing of the subject to ensure that the AI "understands" the underlying issues that the analyst is attempting to address. For some use cases, this step may involve pre-training the AI before delivering the prompt. We performed pre-training of ChatGPT on our data model before asking it to write a specific SQL query.
Step 3: Submit Your Request
The submission process is currently fairly straightforward for ChatGPT, but we anticipate that future AI tools such as Copilot may introduce more complex multi-step submissions as part of their toolset. We've separated this into separate steps to accommodate future research use cases.
Step 4: Evaluate the Response
Business analysts need to carefully assess the output that AI provides. One of our most important findings has been that AI makes mistakes and provides poorly constructed rationales for the answers it provides. This is a major pitfall that new adopters of AI may fall into if not careful
The fact that AI takes on a confident tone in its answers can magnify this problem as the level of confidence it implies may seem more convincing to first-time users.
Analysts must apply their own critical thinking skills to evaluate the output provided and challenge the AI in cases where the evaluation highlights the shortcomings of the response that AI provides.
Step 5: Iterate Your Prompt
Business analysts will find that they will likely not receive a complete, and correct response from AI after submitting their first prompt. Analysts must develop the mindset of an "ongoing conversation" with the AI tool to progressively get closer to their objectives through a back-and-forth with the AI.
This may require the analyst to iterate multiple times on th design of their prompt in order to get the output they desire.
Step 6: Integrate Into Your Work
Business analysts must take additional steps to seamlessly integrate their newfound knowledge into the work products they produce. Relying too heavily on AI and expecting it to do the work on the analysts and taking a "cut and paste" approach to integrating the work into their work deliverables may risk low-quality output and ultimately, the loss of credibility from stakeholders.
Our Current Findings
Based on the research conducted to day, we've discovered three use cases for for ChatGPT for job seekers.
Using ChatGPT to rebuild your resume.
Using ChatGPT to perform stakeholder analysis on your interviewees.
Using ChatGPT to practice for your next interview.
Read the full report here: Prepare for Your Next Business Analysis Job Interview Using ChatGPT
Our Research Roadmap
We currently have the following tools & techniques in scope for our research.
Using ChatGPT to learn a new domain (

in progress)

Using ChatGPT to create the initial draft of a current and future state (in progress)
Using ChatGPT to draft requirements, including user stories (in progress)
Using ChatGPT to query an SQL database (in progress)
Using ChatGPT to build visual models (in backlog)
Using Copilot for stakeholder communications (in backlog)
Using Copilot to for summarizing complex data (in backlog)
Using Copilot to cleanse a dataset for data migration (in backlog)
Do you have a topic you'd like for us to research further? Submit your idea using the form below and we'll place it in our backlog for consideration.
Useful Resources
Submit Your Request
Business Analysis 101 Course
10 hours of video material 
Taking you on a journey across the business transformation universe to give you a deep understanding of the BA profession within its surrounding context.