Many aspiring business analysts automatically assume that they need to get certified by the IIBA or by the PMI to be considered a business analyst in the industry.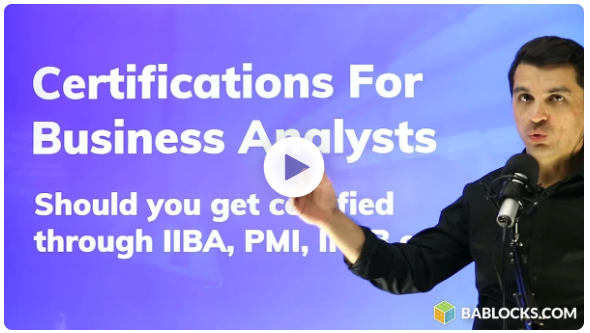 Business Analysis Certificates Are Not Mandatory
Business analysts do not need a business analysis certificate to become a be considered BA professionals in the industry or in the eyes of potential employers.
This article will help you to understand how you should think about your own business analysis certificate strategy, and encourage you to think clearly about how you should be spending your time and your resources to get to your business analysis career goals as quickly as possible.
The major question that I want you to consider is whether you should be getting certified through one of the governing bodies at all.
My Business Analysis Certificate Strategy
This might seem like a strange piece of advice coming from a professional business analyst. Who's been in the industry for 15 years. Uh, but if you were to actually go to my LinkedIn profile and you were to scroll down to the bottom, you'll notice right away that I don't have any business analysis certificates.
The only certification that I have is not a certification in business analysis. The certification that I've chosen to pursue, is for the purpose of acquiring domain knowledge.
I've chosen to spend my time and effort in pursuing a certification that is not related to business analysis at all. It's not an IIBA certification or a PMI certification.
And by the end of this video, it should be a little bit clear to you as to why I've chosen to go down this road and how this actually fits into my overall business analysis career strategy.
Business Analysis Certificates Will Not Give You Skills
New business analysts entering our profession automatically assume that pursuing a certification is going to give them actual practical skills that they're going to need to do the work.
This is a misconception that can lead you down the wrong path in your business analysis career. The single biggest benefit of getting certified doesn't have to do with skills. It has to do with credibility in the job market.
The type of benefit that you're going to get if you choose to pursue an IIBA or a PMI certification, is the benefit of letting the employer know that you have a base level of knowledge in the profession of business analysis, and nothing more.
When an employer is looking at your resume, or if you're in an interview situation, them knowing that you have the ECBA, the CCBA the CBAP or the PMI-PBA gives them some indication that you have base knowledge about the BA profession.
Business Analysis Certificates Say Nothing About Your Capabilities
Doing the work of the BA requires experience, and the ECBA, the CCBA, the CBAP, or the PMI-PBA do not make up for a lack of experience.
So if a job candidate has four or five, six years of experience as a business analyst, most employers are not even going to pay attention to the fact that the candidate has a business analysis certificate.
Experience Always Supercedes Business Analysis Certificates
If you have five years of experience and you have a CBAP, most employers are going to just ignore the fact that you have a CBAP, and focus strictly on speaking to you about how your previous work experience has prepared you to do the work that they require from you.
Your interviewer is going to start talking to you about the experiences you've had and how you can leverage those previous experiences to help them achieve the things that they are trying to achieve.
Who Are Business Analysis Certificates For?
The one area where you can benefit from having a business analysis certificate is if you are somebody who doesn't have any previous business analysis experience, or if you're very, very early in your career, and you don't have a lot of the business analysis based education.
If you're not educated in the domain that they are looking for, or you don't have much of an IT background or anything that you can leverage to propel yourself into a business.
Business Analysis Certificates Can Help If You Have No Experience Or Education
If you're in a situation where you don't have the experience or educational background then pursuing a business analysis certificate may signal to the employer that you're taking your pursuit of business analysis very seriously.
Certificate Can Tell Your Employer That You're Serious About Business Analysis
Having a business analysis certificate can tell your employer that you're looking specifically for a business analyst role and that you're in the process of actually getting yourself into that role by pursuing a certificate from one the major governing bodies.
In this type of situation specifically, pursuing a business analysis certificate can actually help you to convince employers that you're very serious about pursuing a career in business analysis.
In Most Other Circumstances A Certificate Is Not Worth Pursuing
In most other circumstances, having a business analysis certificate is nice-to-have but is not a mandatory requirement for doing the work of a business analyst.
In my 15+ years of experience as a practicing business analyst, I've never personally seen a situation where an employer has made it mandatory for somebody to have a CBAP, or a PMI-PBA to get the job.
Watch the Full Video On This Subject Inside Our Community
This is one of the many subjects that we cover inside our community. Join us today to get full access to all the members-only materials.