Hi, my name is Emal Bariali
I'm an experienced business analysis consultant and the founder & managing partner of BA BLOCKS.
As a formally trained business analyst with nearly two decades of BA experience, I have total clarity about the theoretical and practical knowledge business analysts need to thrive in their BA careers.
I've developed this perspective over the last two decades by undergoing a rigorous 7-year-long training program before building up my own BA career.
My experience has given me a deep appreciation for what it takes to succeed in this profession, and I'm here to share that with the next generation of business analysts.
The Three Stages of my BA Career
How I progressed through each stage to achieve career success.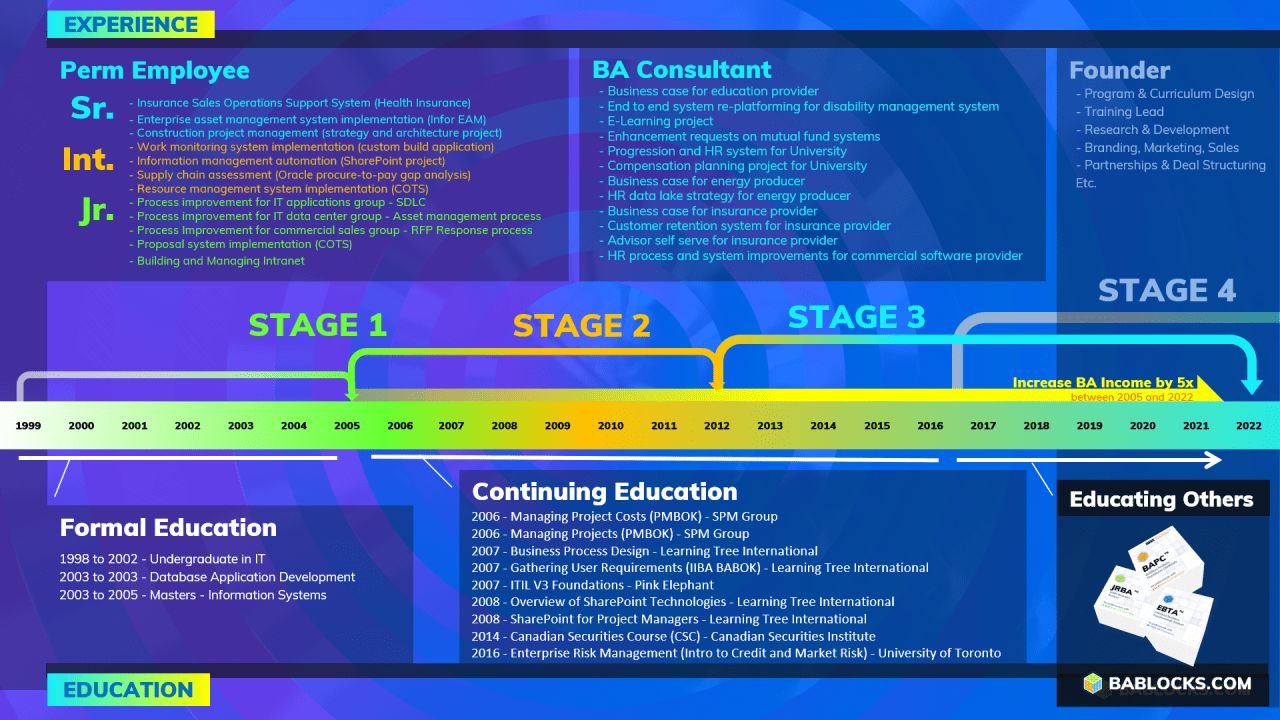 Understanding Value in The Real World
I finally entered the work world in 2005, after seven years of formal University education, and I quickly realized how unprepared I really was.
My formal training taught me many practical skills and theoretical frameworks but did not prepare me to deal with the pressure of delivering true value under real-world constraints (time, budget, scope, competing priorities).
That real-world education came to me at the first stage of my career.
The opportunity to do a system implementation on a proposal/sales system came to me very early in my career, and this turned out to be one of the most stressful projects of my life.
As difficult as the project was, it forced me to learn that time is not infinite and the resources I needed to do my job properly won't always be available.
The skills I had picked up during my education were valuable but after this experience, I realized that I would need to refine them significantly to sharpen them enough to deliver real value under high-pressure situations.
Seeking & Securing High-Value BA Work
The other major lesson I learned after that first full system implementation is that:
"Support work is less valuable to my employer than project work."
I was very income-driven at the time and I knew that the only way I could increase my income was by learning to do the types of work that would help my manager and his manager sleep better at night.
Neither one of them was spending much time thinking about the $5,000 problem that the support ticket had created, they were both fixated on the $5,000,000 project that had just gotten approved and that their teams were responsible for delivering.
As soon as that first project ended, I booked a meeting with my Director to find out how I could get myself on another project ASAP.
A few months later, I was on another project, and since then, I've built up a habit of volunteering for the most complex and difficult jobs that I can find.
I understood where the high-value BA work was, and I was chasing it relentlessly.
Boosting my Income to Match my Value
By 2012, I had doubled my income from the start of my career in 2005, and I was starting to realize that the value of the BA work I was doing far exceeded the income I was receiving in exchange.
My progression options were clear to me because I understood how my priorities would need to align with my career strategy:
A higher income would require me to get into management or independent consulting.
More job satisfaction would require me to find increasingly more challenging projects.
A higher-status job title would require me to pursue the management stream.
A sense of security would require me to stay in the perm stream.
I knew I had no desire to become a project manager or to manage a department of business analysts. I also knew that I loved doing BA work, and Income was still a priority.
I chose the strategy that fit my priorities, and I've since increased my business analysis income by 5x by executing 20 projects in total, over 17 years,
What my managers have to say
about my performance as a business analyst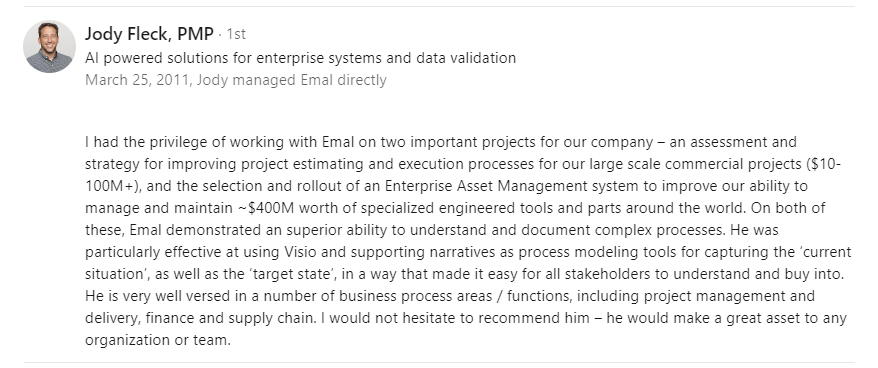 I'm ready for stage 4 of my career.
After nearly two decades of doing business analysis work, I'm now ready to pass my knowledge down to the next generation of business analysts.
Around 2015/2016 I came to the realization that I would eventually "hit the top" of Stage 3 and would need to find the next stage of my career progression to keep myself engaged in my work.
Knowing these made my path into Stage 4 of my career much clearer, and I began putting the wheels into motion to make it a reality.
2016 • It started with a Podcast in 2016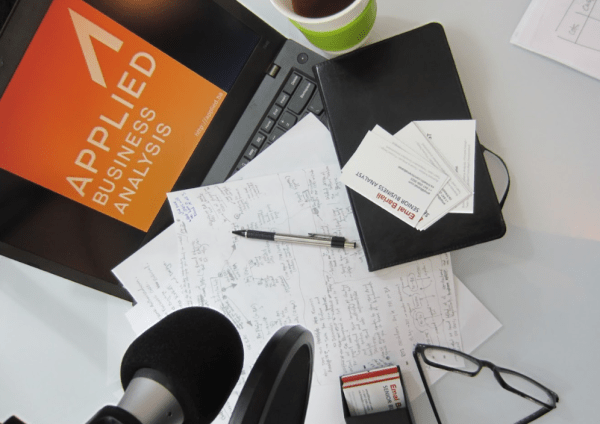 The show was called APPLIED Business Analysis and was about sharing real-world BA experiences of the work that I was doing at the time.
We eventually re-booted this show into the new version called the BA BLOCKS Podcast.
 2018 • It grew into a Blog &  YouTube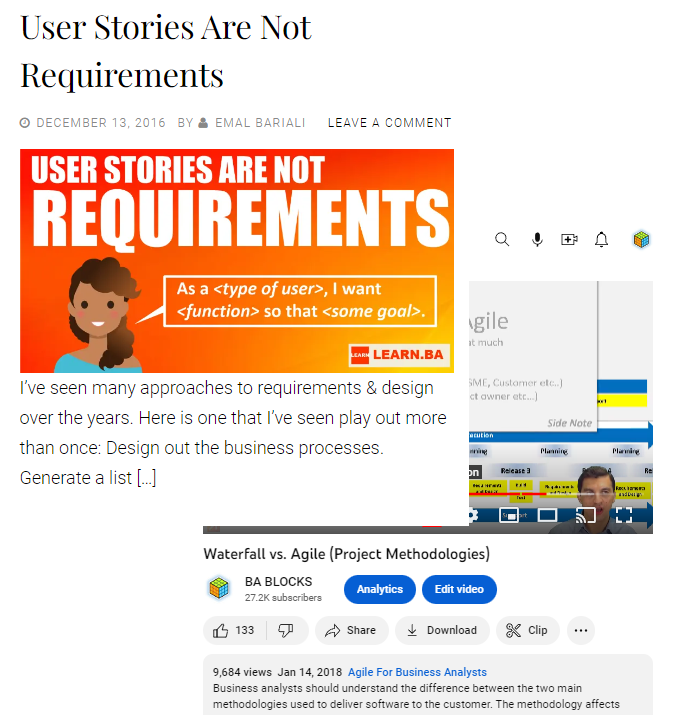 You can still find the original blog at LEARN.BA and our YouTube Channel have over a hundred videos for you to watch.
Start learning with us today.
A 10-hour comprehensive introduction to the business analysis profession that you can learn on your own time (on-demand).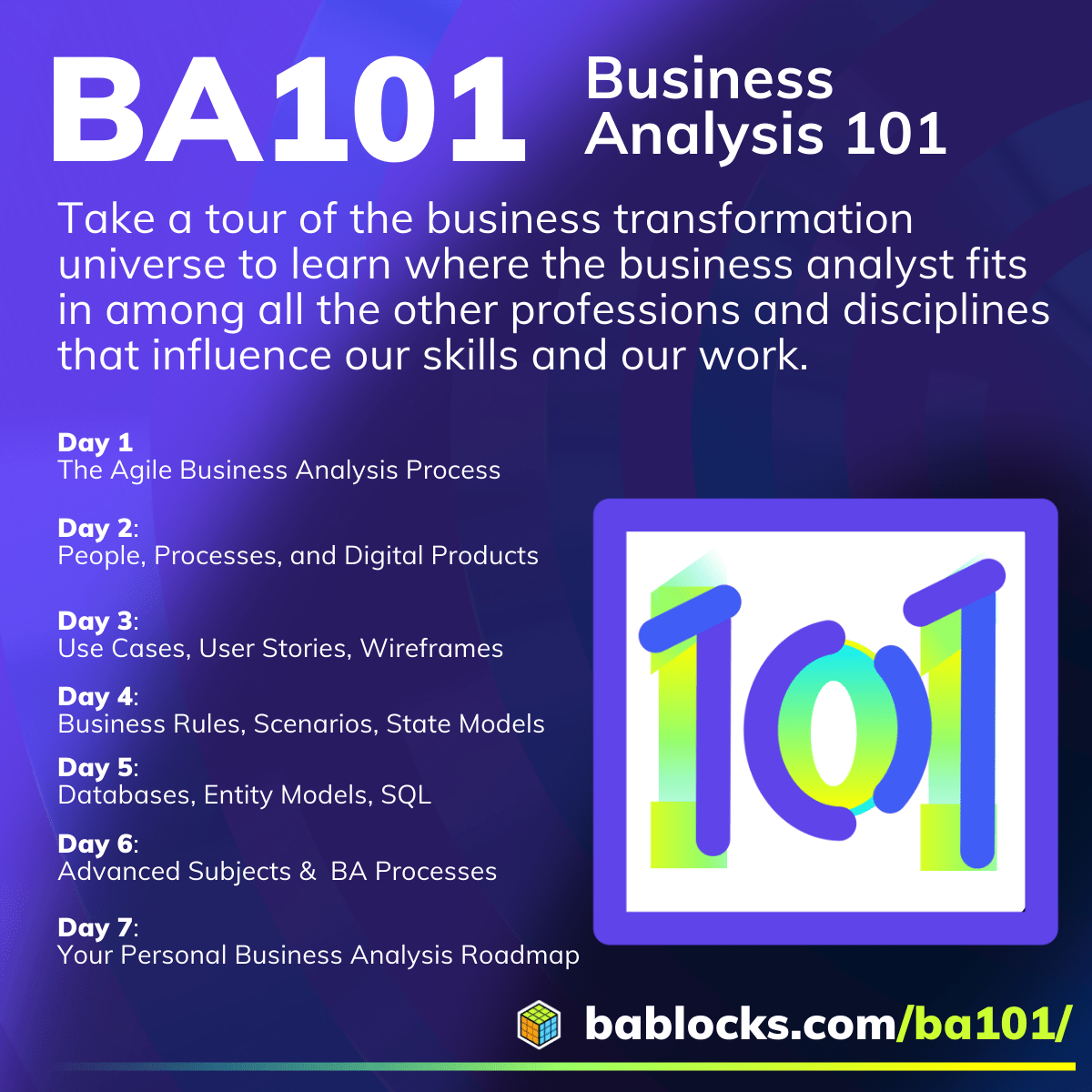 Are you an Accidental Business Analyst?
Most business analysts often "fall into" the BA profession accidentally.
Without the necessary formal training, it can be difficult to build a theoretical and practical foundation to truly grasp all the different aspects of our profession.
Take a tour of the business transformation universe to learn where the business analyst fits in among all the other professions and disciplines that influence our skills and our work.