Trust is the key to your success, and mine.
As a BA consultant, I work very hard to gain the trust of my clients, and I'm working hard now to gain the trust of our members and students.
Throughout my 17+ years in this profession and 40+ years of living life, I've learned that no amount of skills or experience can replace the trust that people have in you to look out for their best interests.
I believe that honesty, fairness, and voluntary relationships are key to running a good quality business.
This is how I want to run BA BLOCKS.
Wrapping up a consulting engagement with a downtown Toronto client in 2016.
Unfortunately, the world isn't always 100% honest or fair.
However, you have control over who you interact with and how.
That's what it means to have voluntary relationships, and BA BLOCKS is committed to creating an environment that encourages you to join & stay with us for the long run – not because you have to, but because you want to.
Here are three things we're doing to make this a reality.
Honesty is important in life and in work. You should expect to trust the person you rely on to teach you this profession.
You should never feel stuck after buying something. That's why we offer the most generous refund policy of any education provider.
Unrivaled Education
Becoming a good business analyst is more than just accumulating a small set of basic skills.
We've created a full program to help you achieve career success.
Fortunately, there's a clear path to success.
And, you now have clearly defined steps to get you there.
Focus your time and resources on proven, time-tested principles to achieve success.
Here are three things you can do to make this a reality.
Design Your Career
Discover your natural talents & unique aspirations, and design an optimum career strategy tailored just for yourself.
Build Skills
Rely on experienced professionals to teach you the skills that complex enterprise environments demand of you.
Deliver Results
Apply those skills to deliver at a level of competence and professionalism that'll leave your stakeholders in amazement.
Start your journey with us.
Regardless of what stage of your BA career you are in, this program has a path forward to help you elevate your career to the next step.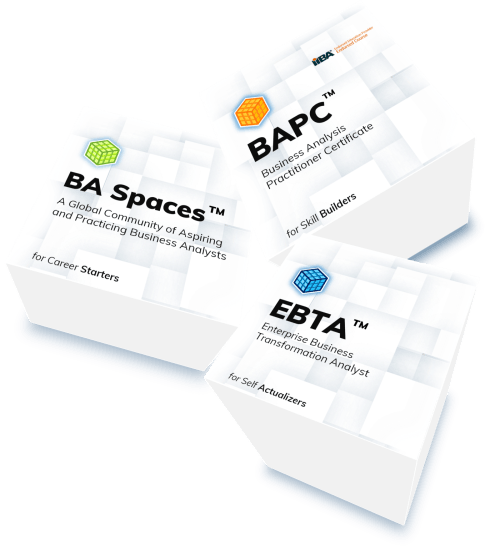 BA Spaces™ Is The Best Starting Point
Our vast library of resources in our community will get you acquainted with our platform and materials. The BA Fundamentals course (included in your membership) will give you a clear understanding of the BA profession.
You'll meet many of our 4000+ members, and get instant access to the BA Fundamentals course and to replays of our past live sessions. You will also be able to attend our next live session to learn about the specific subject we're covering + have your questions answered live.